Behind the Scenes: How Productive People Think
If you follow me on social, you know I took a little hiatus over the summer, just for some down time, some self care, a quick family vacation, and to put more of a focus on being productive vs. busy. Sometimes, we have to take time out of our busy schedule to enjoy or appreciate the beauty of life. I was running on empty and I needed to stop and smell the roses.
Now that I'm back, I come bearing great information and a surprise for you, too.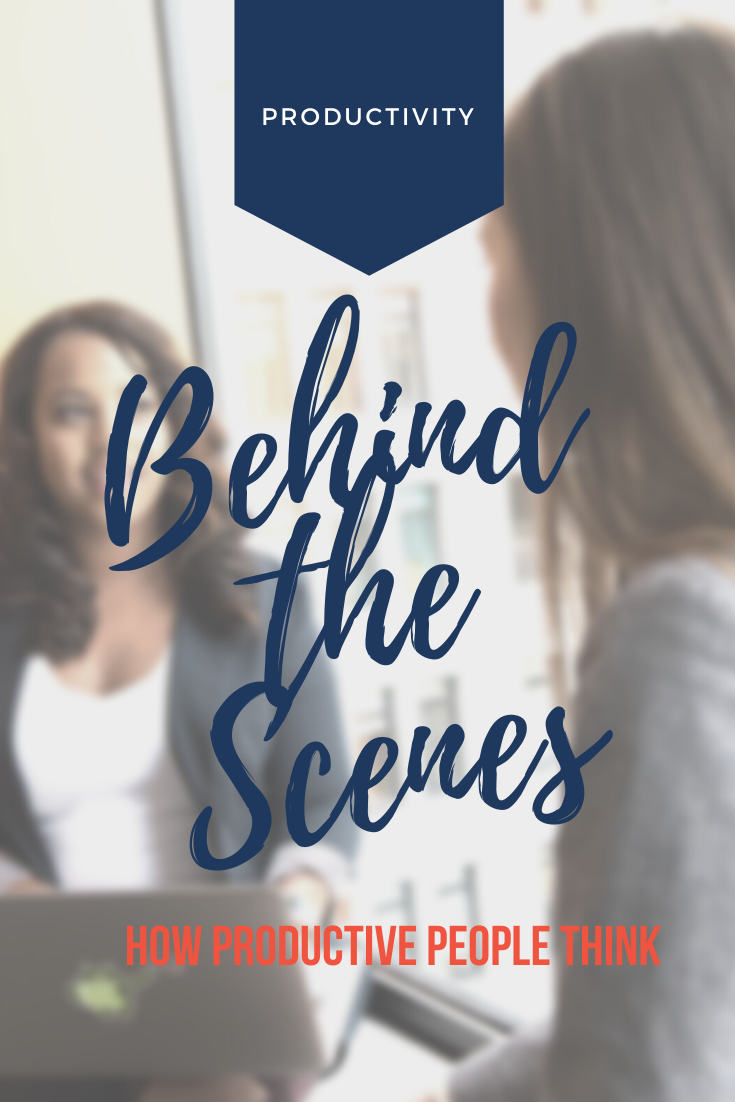 Let's start with the great information
As I stated earlier, during my "hiatus" I had some time to reflect on how I want to be more productive vs. busy, when I returned back to the real world.  As women, we are often running around, from one place – or one thing – to the next. Rarely do we have time to sit and get really clear about our priorities.
As someone who's had a few months to sit and think, I wanted to share with you a few things to think about.
If you want to become more productive, it helps to understand how productive people think.  Even if this way of thinking doesn't come naturally to you, you can adopt these principles and apply them to your own work life.
Priorities matter.  People who are the most productive are clear about their priorities.  They know that some things are more important than others and they're able to attack the most important things first.
If this isn't your usual habit, start each week by making a list of tasks and placing them in order of priority.  This will help you to get the most important things done first and even help you to eliminate tasks that really aren't necessary.
Understanding priorities also makes it easy to delegate tasks and avoid things that might take away from reaching goals.
Plan for success.  Productive people generally make a plan.  They may schedule their next day at the end of the current day.  This makes it easy to jump right into work the next day without having to take time to decide what's next on the list.
Eliminate time wasters.  There are many things throughout the day that could threaten to take away from productivity.  Productive people know how to put those time-wasters on the back burner and stick to the important work.
It could be social media, chatty coworkers, emails, text messages, phone calls, or reading online news that prevents you from getting business done.  Set those things aside and schedule a specific time when you'll allow yourself to participate in those things.
Take responsibility.  People who are productive are happy to take responsibility for both their successes and their failures.  Rather than looking to point the finger at someone else, they make sure to stay accountable for their work.
Learn from mistakes.  When you're working to be more productive, it helps to understand that mistakes are learning tools.  Productive people are aware that they will make mistakes but they look to learn from them instead of letting mistakes throw them off course or cause them to quit.
Efficient tools.  Productive people also know it's important to have the right tools to do the job.  That means having a high quality computer, the right desk setup, and a proper yearly planner that will help you stay on track.  When you have what you need in your workspace, it helps you to get more done.
Think about your own productivity levels.  Where can you make changes in your mindset to become more productive?  Small changes can lead to big results. Every step or milestone is a victory.

Now for the big surprise.
While we're on the topic of productivity, you may recall that last year I launched my first 12-month planner. During that time, I enlisted a beta group of women who all agreed to use the planner and provide feedback for making it even better. Many of you are reading this post today – and I want to say THANK YOU again!
Due to the awesome feedback, I'm pleased to announce the 2020 Unlock Your Potential Planner is hard cover with full color pages throughout. I haven't announced it to the public yet, but I wanted you to be the first to see it.  I'm so very proud of the work my team and I have done with this new planner.
Because you've been so supportive, I want to offer you $5 off an advance copy of the planner. Simply enter the code PRESALE at checkout – and you'll be one of the first to receive a copy in early November.
Stay tuned for more information about what I learned during my 3-month hiatus, as well as the exciting things my team and I have in store for all of you.
Best,
Kimberly.