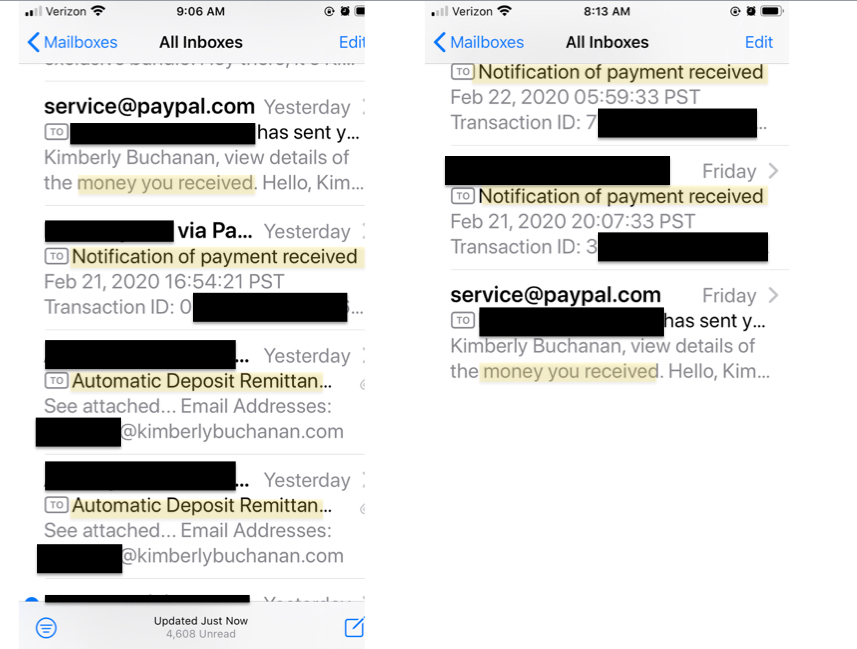 The photo above is what my phone has looked like over the past few days. The majority of those emails came in overnight, and a few of them were deposits made to my account WHILE I WAS SLEEPING!
It hasn't always been that way for me. At one point in my life, I was just like billions of other people in world. I went to work and I came home, then I turned around and did the same thing the next day, and the next day, and the next day again. Although I loved my job (and I still do) , there was not ONE SINGLE DAY when I didn't think about using my skills in other ways.
I had so many great ideas in my head and many, many more written down on paper.
Obviously, that's not where I am today. I was forced to stop spinning my wheels and start using my talents beyond just my day job. I turned what I already know into the next level of success. And the best part is… I didn't have to sacrifice my day job, my family or any of the things that matter most to me.
I've been able to coach other women through the same journey as me and it's great to see them blossom and move from stuck to unstoppable, while still managing work + family + life.
I love to bring on new coaching clients. But before I begin coaching anyone on how to use their skills and expertise to create something new, my first question is always the same… "Have You Unlocked Your Potential?" I ask this question for two very important reasons:
In order to unlock all the potential you have to offer, you have to obtain some important support tools and release yourself of the things that have been keeping you stuck.
This is going to take some work, so you must learn how to prioritize and plan well in order to move forward with making some important changes that will set you up for the next level.
Believe me, there are a whole lot of people out there who would LOVE to know the things you already know. But if you want to package your unique talents and skills, and offer them to others, your potential must be unlocked. Do you want to open an online store? Become an online influencer or a blogger? Write a book? Podcast? Become a consultant or a coach? Teach online courses? Open a stand-alone store or another type of business?
If you answered yes to any of these questions, you'll want to read this post all the way to the end. Your life could be totally different by this summer!
---
UNLOCK YOUR POTENTIAL: READ WITH ME (LIVE!)
As I mentioned, Unlocking Your Potential is the very first step and I'm going to walk you through the process for FREE, starting in March.
Unlock Your Potential: Read with Me (LIVE!) begins Tuesday, March 3 at 6 p.m. Central / 7  p.m. Eastern.
This 7-week online experience is packed with guided reflection and hands-on vision work to help you get the absolute most out of the revised and expanded edition of my Unlock Your Potential book.
This workshop is FREE. To reserve your spot, simply register HERE.
There will be Q&A time and a bunch of other goodies. And, I'll offer my lessons from lived experiences, of course.

---
THE UNLOCK YOUR SUPERPOWER EXPERIENCE (MAY)
Once you've unlocked your potential, I'm going to invite you into my free membership where you'll take just 5 Days to identify your SuperPower (that one skill set you can use to generate multiple income streams).
If you've wrestled with questions like:
Which of my many talents should I use?
I have so many ideas – where should I start?
I'll help you find those answers. We're going to tap into those skill sets that only you have: That thing you know like the back of your hand, but it doesn't come as easy to everyone else. Others would have to work very, very hard for several years to gain the same level of capabilities you already have. That's the level we're going to get at for you.
Registration details will follow the conclusion of Unlock Your Potential: Read with Me (LIVE!).
---
COACHING WITH KIMBERLY (JUNE)
This is where you'll start thinking about bringing in additional income for you and your family. People want access to your gifts and abilities, and there are a million ways to give it to them. We're going to start turning your identified SuperPower into a platform that positions YOU as a go-to person.  I'll give you access to my team and the smart people who help me do what I do every day. We'll actually create a step-by-step plan that is customized only to you! This live interactive coaching will equip you to establish your voice, your platform and get the traction you need to create multiple income streams.
---
If you are a creative, and this journey sounds right for you, take the first step today. You will not be alone… It will be you + me + a group of like-minded women who are all ready to take that first step with you.
It's 2020! Now is your time. Stop waiting for all the stars to align, because that may never happen.
REGISTER for the FREE Unlock Your Potential: Read with Me (LIVE!) experience (FREE) and be ready to go on March 3rd.