Hi...
I'm Kimberly Buchanan – Bestselling Author, Speaker and Ambassador for Courageous and Ambitious Women who want to reach their full potential.
What that means is:
I believe you can become the desired version of yourself, as long as you have the tools you need to properly plan, while still managing work + family + enjoying life. I know this because I was once you.
Today, I am a career professional who turned the specialized knowledge and talents I use everyday into a six-figure brand, a #1 bestselling book, a professional coaching business, and a network of ambitious and courageous women like you. To keep it simple, I work a 9-5 job that I love AND I pursue a passion that brings me joy. This wasn't always the case, but life changed for me when I learned how to plan well and got my hands on the proper tools and resources that helped me make the necessary changes and start living my best life.
When you plan well, you are guaranteed to live more of the life you desire to live.
YOU CAN pursue any personal or professional goal you choose, while still working your job, taking care of the family and living your best life all at the same time.
YOU CAN use the skills you're great at, and passionate about, to make more money and still keep your job.
YOU CAN brand yourself as an expert in your field through speaking engagements, blogging, books, podcasting, etc; and still keep your day job.
YOU CAN choose to pursue a totally different hobby or passion that is completely different, without walking away from your 401(k).
The MORELIFE Network is for women like you who want to reach their full potential and still manage work + family + enjoy life. The network is a private community to gather the tools and resources you need, while receiving that extra inspiration and guidance from me, and other women who are just like you.
If you are ready to implement positive changes and become the BEST version of yourself, this private network is for you.  Whatever your personal definition of "more" is, you can achieve it.
YOUR FREE MEMBERSHIP INCLUDES:
Free access to the private, online network
Free workshops throughout the year
Free downloadable worksheets to assist with your planning
First look at new tools and resources
15% off everything in the online shop
15% off all courses
Live answers to your burning questions
An inside look at the tools, products and methods used by Kimberly and other successful women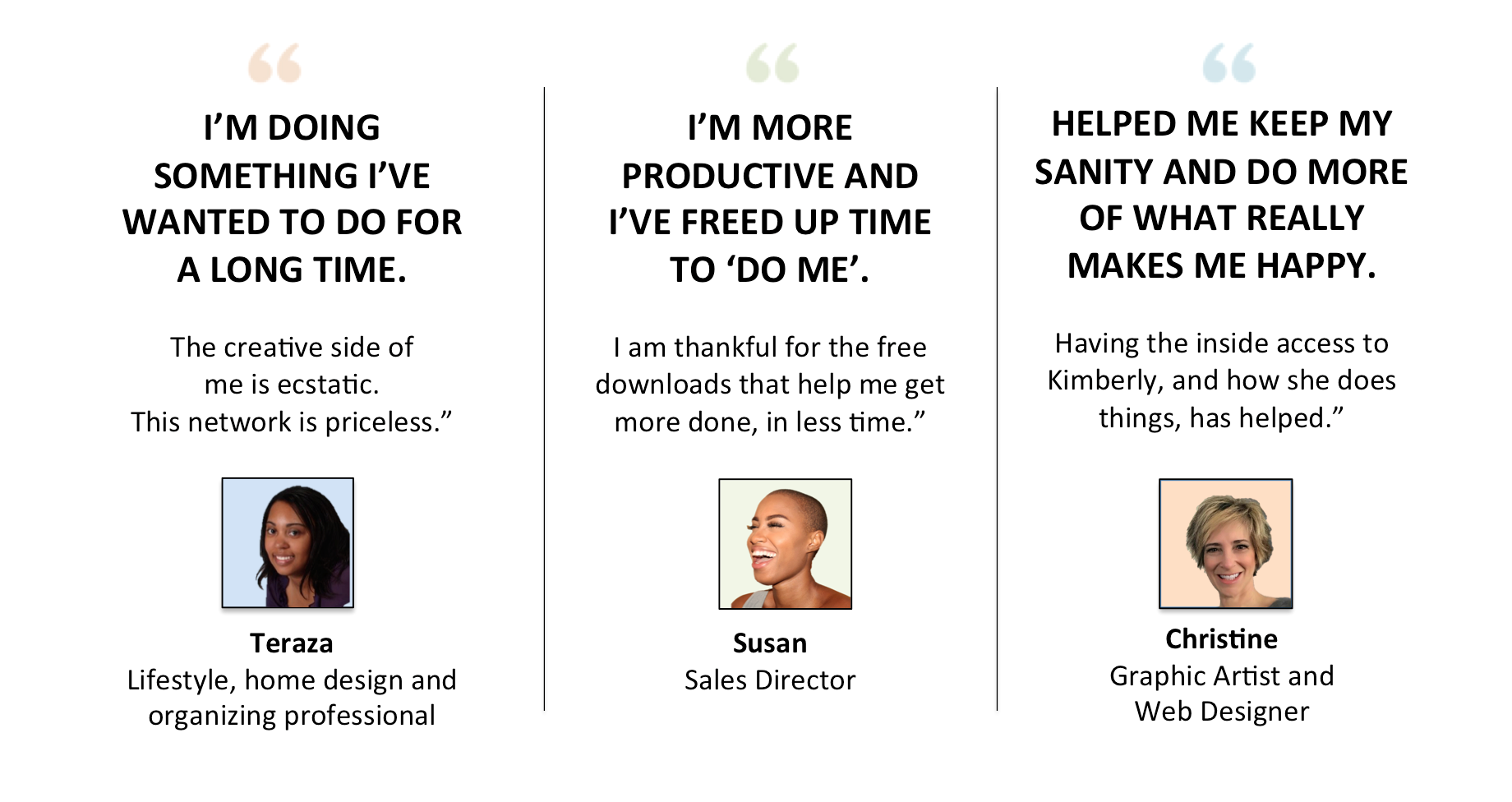 NO MATTER WHAT YOUR PERSONAL DEFINITION OF "MORE" FOR YOUR LIFE IS, WE CAN HELP YOU.
Each woman has different goals and desires for her life. Your definition of having "more" or goals for your life may be completely different from the next woman's – and that's ok. Whatever your desire - here's what I know for sure:
You can manage work, family, and live your best life – All you need is a plan
You don't have time to start from scratch – You can use our tools
You don't know everything – Use our resources for guidance
It may be hard at times – Let us inspire and motivate you
There's someone out there who needs what you have to offer – Show them who you really are.