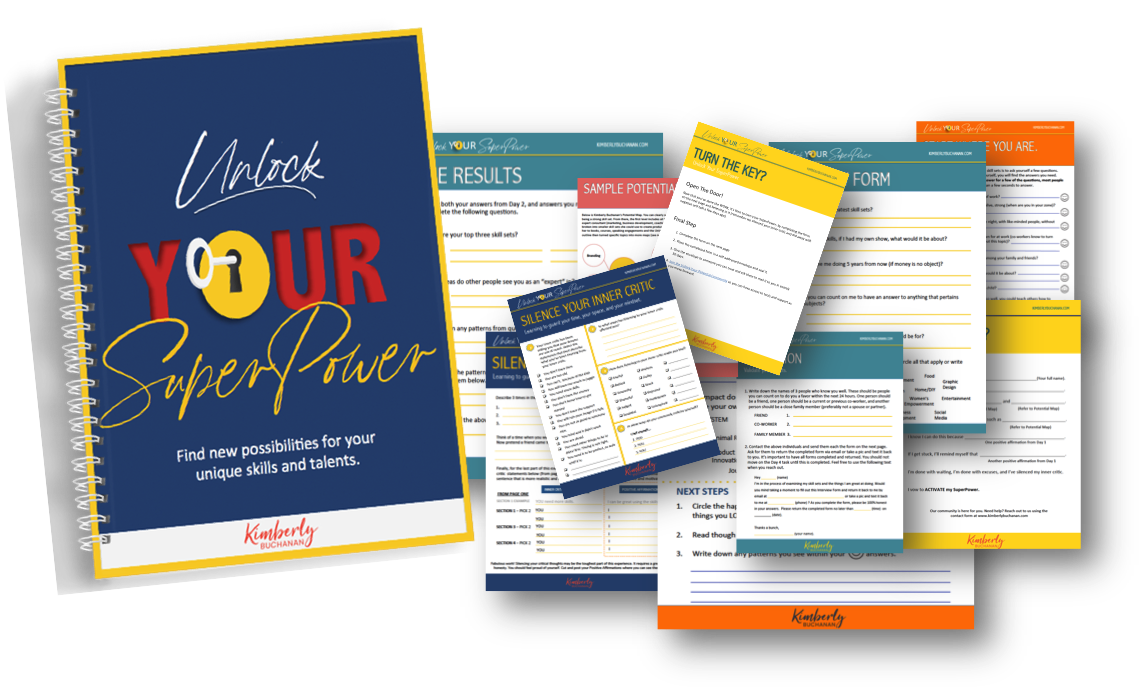 Identify Possibilities for Your Unique Skills and Talents - in just 5 days.
CONGRATULATIONS! You are on your way to your best year ever! In the next five days, you'll release things that are holding you back, and come to a conclusion regarding which of your many skills are a good match to expand your talents beyond your day job. This experience will help you Unlock Your SuperPower and give you the jumpstart you need to your best year ever.
You may think we don't know you – but we do.
We know you spend quiet time reflecting on what you really want to accomplish with the life you've been given. You tap into your inner wisdom and discover what will make you truly happy and content. Next, you outline goals you'll need to achieve to reach your full potential. All is going well. You're super excited about the progress you're already making by coming up with monthly, weekly and daily action task lists to meet your goals. Maybe you even set up a fancy spreadsheet or added a goal tracking app to your phone so that you can access your tracking guide on the fly. The day comes when it's time to start taking the action you've planned for. And you freeze. You start to wonder who you think you are to create the life you've always wanted. All the plans you've come up with suddenly seem overwhelming. The negative self-talk starts and it won't stop. 
Though this may sound disheartening, it's a very real situation that many women face when they decide to invest in themselves and follow new dreams. Fears that we didn't even know we had start to spring up from everywhere. And they lead us to rationalize why we should stay small, right where we are, and that's exactly what we do – we lock up all those skills and all the potential that comes with finding new possibilities to be our best selves. We limit our potential, without even knowing it.
Register Now for the 5-day unlock your superpower experience
Have you ever:
Procrastinated doing something you really, deeply wanted to do?
Been such a perfectionist about your creative work that you never finished it?
Allowed other people's opinions about what you plan to do with your life squelch your enthusiasm?
Let life get in the way of your dreams? Did there always seem to be something more urgent or important to do?
Buy into the memories of past "failures" and believe it will be the same this time?
Practically everyone who's ever wanted to make a significant change in their lives has encountered at least one of the ways above-usually more than one – and then decided NOT to use their skill sets to have MORE. So, if you are or have had these thoughts, feelings or behaviors, you're in good company! The exciting thing is that many people have gone on to move through each of these limiting beliefs or behaviors. I'm sure you know some of these people – Kimberly Buchanan is one of them.
Are you ready to start your own journey towards a purpose driven life?

 
This course will inspire you to give some serious thought to your own personal why, your purpose, and your passion – and lock into your SUPERPOWER in a whole new way. 
here's how it works:
Kimberly Buchanan will share the essential steps you need to take if you want to identify which of your unique skillsets can be expanded to leverage your talents beyond your day job.  This is a 5-Day Experience. It will consist of a series of emails and worksheets you'll need to unlock your SuperPower and emerge with a whole new mindset!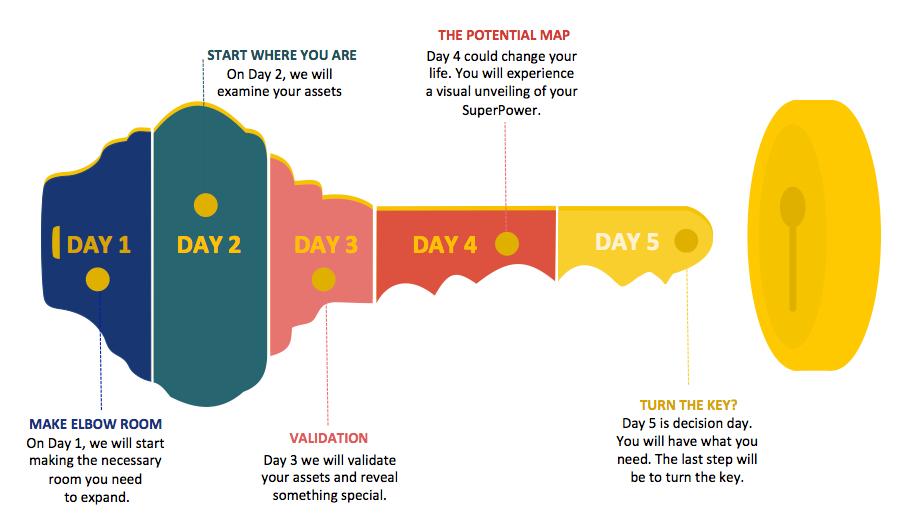 How to overcome fear that has been holding you back.
Which of your many skills can benefit you the most.
The top skill sets you could start using today, with $0 investment.
The next steps for your new journey, filled with potential.
5-days of guided study
More than a dozen worksheets
Personal tips used by Kimberly Buchanan
the next 5 days could change your life!