If you're like most people, you are probably asking yourself about this "MoreLife Method" created by Kimberly Buchanan. It's been mentioned on just about every page of this website, but there's been little explanation about it, until now.
You've finally arrived.
The MORELIFE Method is a successful, 10-step process that Kimberly has used (and continues to use) and now she shares it with the world. It is designed to help you  plan for and reach the goals you have been putting off for far too long.  The MORELIFE Method will innovate, inspire, create transformation in your life and equip you with tools and next steps you need to move forward.
The process requires you to work one-on-one with Kimberly, focusing your core areas of fulfillment and completing the 10 steps that make up The MoreLife Method.  An application is required.
The MoreLife Method is ideal for those who want to reach new business or professional goals.
Step 1 – Complete the past
Step 2 – Identify what's been holding you back
Step 3 – Establish exactly where you are now
Step 4 – Get real about the life you desire to live
Step 5 – Awaken the desired version of yourself
Step 6 – Set new vision and goals
Step 7 – Develop a step-by-step process to close the gaps
Step 8 – Design a 12-month, written plan of transformation
Step 9 – Establish your dream team
Step 10 – Access the free tools and a supportive network to help keep you on track, according to your plan.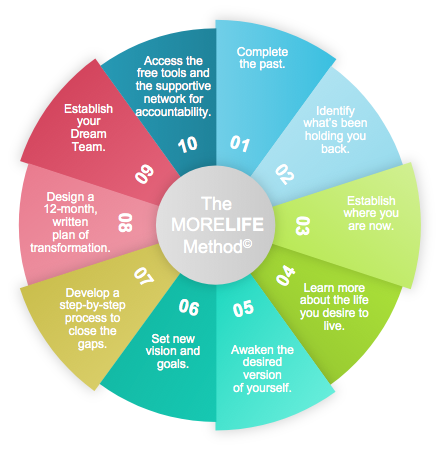 If you are ready to PLANWELL and LIVEMORE, please take a moment to complete the application.  Kimberly would love to work closely with you to reach your potential.