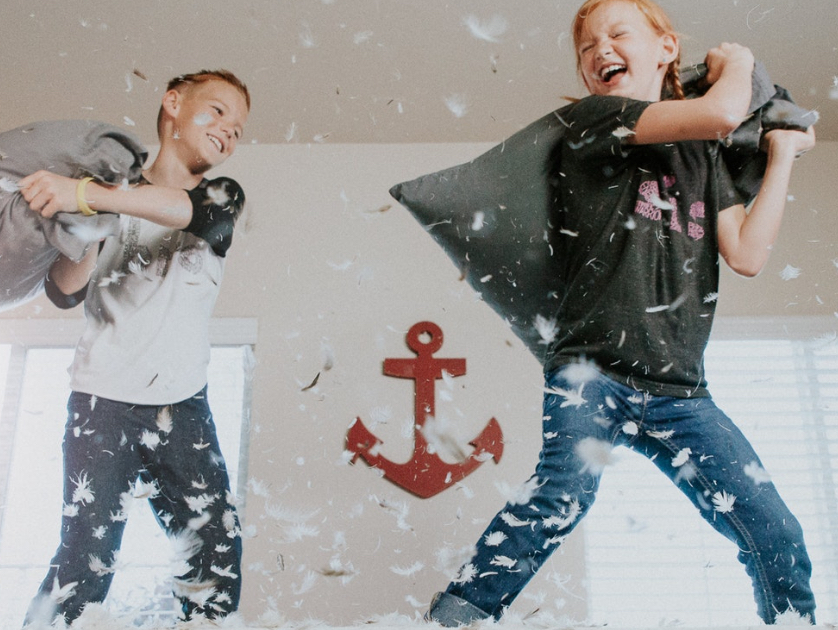 A great majority of children, across the country, are off school due to the weather. Although the kids will be off school, that doesn't necessarily mean you'll have several days off work.
Working from a home office, when the kids are home, can sometimes be difficult. I can't tell you how many times I've had people say, "I can't get anything done when the kids are home."
Overcoming this obstacle goes back to what I've been talking about time and time again. It's all about PLANNING.
Here are four things you must do if you want to have a productive workday while the kids are home from school.
1. DRESS THE PART
That means you wake up and set the tone for the day. You are "going to work". That means you should look the part and prepare as if you are leaving for the office, even if the office is in your basement or a spare bedroom. I'm not suggesting you dress up in a suit. But you do need to get fully dressed vs. working in your pajamas.
2. SET THE RULES
Talk to your children and set the rules around what they can and cannot interrupt you for while you are at work. For example, my children are only allowed to interrupt me in the case of an extreme emergency such as if someone is sick, hurt, bleeding or the house is on fire. I am not to be interrupted for simple things like phone calls or a drink of water. When setting these rules, you will need to take into account the ages of your children.
I've learned that one of the most common interruptions from children is, "I'm hungry" or "I'm bored." To combat this situation, be sure to leave grab-and-go snacks out for them to enjoy; as well as some of their favorite board games, video games, books, movies and other activities. Make sure these items are visible.
In the event that your child must interrupt you, please teach them how this should be done. Because I'm often on conference calls, my children know not to yell for me. They also know they should never KNOCK on the door. I've instructed my children to open the door slowly and make eye contact with me before they speak. This allows me to either mute my phone and address them or gesture for them to come in and wait until I can speak. Taylor these rules to your line of work.
3. SCHEDULE REGULAR CHECK-INS
Two to three check-ins should be sufficient. Try to have breakfast with your children in the morning. This gives you an opportunity to reinforce the rules and schedule your regular check-ins for the rest of the day. Typical check-ins should be once mid-morning, again over lunch and again mid-afternoon. If your children are smaller, schedule lunch during a time that allows you to take your children out for a quick bite. That gives them something to look forward to when their mid-morning boredom starts to creep in.
Inform your children of exactly what time you get off work – and stick to it. Sticking to a finish time sets the tone for how things will work in the future during times when you are working and they're home from school.
4. ACTUALLY GO TO WORK
The forth suggestion for a productive workday when the kids are out of school is to work in a separate room, away from the children. It is almost impossible for you to be productive while thinking about what's going on around you. If kids are in the room, you are naturally going to pay attention to what they're doing. Likewise, you will be tempted to fix what's going around you – laundry, dishes, vacuuming, etc. So, get away to a place where you can limit distractions and actually get work done!
For a more productive work day – download this FREE Planning Sheet.